Post Visitors : 397
June 13, 2012 | NEWS | Post by: admin
New Delhi, June 12
On the controversial issue of common entrance test for admission to central technical institutions from 2013, the meeting ground between the HRD Ministry and IITs is fast shrinking.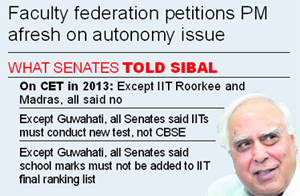 In a major development today, the alumni of IIT Delhi threatened the Government against conducting the CET next year. The association said if differences over the test were not resolved this week, they would go to court.
In another move, the All-India IIT Faculty Federation petitioned Prime Minister Manmohan Singh afresh and sought his protection for the academic autonomy of institutes. Countering the interpretation of the IIT Act, 1961 by officials of the HRD Ministry (as reported by The Tribune), the federation said the IIT Council had an "advisory" role under the law and not a "compelling" one. They demanded IIT autonomy to be protected even beyond the law.
The IIT Delhi Alumni Association, meanwhile, reacted after HRD Minister Kapil Sibal said the Government had no intention of undermining IIT autonomy. He also said there would be no going back on the decision to hold CET next year. "Tell me how CET affects the autonomy of IITs? They get to set the papers. They get to decide when to hold the tests," Sibal said.
But the minister conveniently skipped the sensitive part that allows the CBSE, not IITs, to conduct the new CET. "The IIT Act empowers individual IITs to hold their admission tests. How can then a third party like the CBSE do it for us? Would not that be unlawful?" says Prof YN Singh of IIT Kanpur.
The alumni association reflected the faculty sentiment today while they slammed Sibal's "no CET rollback" comment. "We are deeply worried about the minister's decision of not rolling back CET. We want to tell the Ministry that we prefer a solution through dialogue. If a solution doesn't come our way this week, the option of moving the court is available," said Somnath Bharti, president of the IIT Delhi Alumni Association.
The association reiterated that the new JEE (CET) would not only ruin IIT autonomy but would be detrimental to rural students. "The new format will further benefit the coaching industry, which will now coach students in Class XII subjects, JEE Main and JEE Advanced. This belies the claim of Ministry that the test would end coaching," Bharti said.
At another end, the faculty reacted sharply to the Ministry's conclusion that the IIT Act did not give autonomy in admission matters to the Senates and the Council was supreme.
"The Act gives Senates the sole authority of decision on admission matters. The Council has an important advisory role. But Council advice is to be discussed by IIT Senates and ratified. If that doesn't happen, Senates' autonomy is to be respected," said Atul Mittal, secretary, federation.
Majority IIT Senates (Kharagpur, Kanpur, Madras, Bombay, Guwahati, Roorkee and Delhi) are against CET in the present form.






by